In the last few years, there's been a real buzz about wellness retreats – from getaways promising to help you lose pounds, to hotel packages focusing on getting a good snooze.
At the age of 43, I'm still a wellness retreat virgin. But the idea of going on holiday with a group of girlfriends does sound fun. Choosing a location close to home – Guernsey, just an hour's flight from Manchester – is also good way to ease myself in.
My base for the week is the luxury Fermain Valley Hotel on the Channel Island's south-east coast, a spa property with sauna facilities and a focus on yoga, where I stay in one of the four treehouses tucked into a patch of forest.
All five women on my retreat have come to escape the rat-race and find a bit of 'me time'. After arriving, we head down a winding, tree-lined lane to the Beach Cafe at Fermain Bay to get our first taste, quite literally, of what the island has to offer. I opt for the crab sandwich, which is deliciously fresh.
Listening to waves lapping the shore is calm and soothing, but Katie Brock from Yoga Elements, who hold several outdoor classes in scenic locations (yogaelementsgg.com/outdoor-yoga; £14 per class), promises to send us into an even more relaxed state. At Port Soif, on the west coast, we are treated to an hour of light yoga. The session is so relaxing, I find myself drifting off.
Dinner that evening is at La Reunion, a stylish but relaxed beachfront restaurant overlooking Cobo Bay, famous for its spectacular sunsets. With its top quality, locally sourced produce, I ask what the freshest, local dishes are. "Everything," is the reply.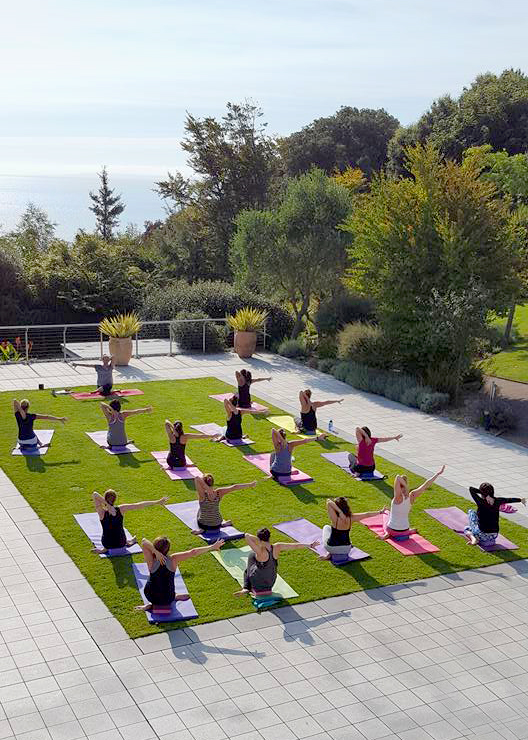 The next morning, we are met on the beach by Ian Potter, a local health and fitness expert who can be booked through the hotel, for an early morning workout. It's not long before I realise the weekend is about to be taken up a notch. The session is all outdoors, using the natural environment to help clear our mind and test our body.
We start off with 'light' warm-up exercises, facing out towards the receding tide, and as the morning haze begins to disappear and the sun tries to make an appearance, the pace is ramped up. Steep cliff paths test our stamina as we jog up and down them, before seeking out large pebbles to use as weights and de-stressing tools.
After refuelling with a delicious breakfast back at the hotel, undoing all our hard work, we head out for a coastal hike towards the west of the island. Ian sets the pace as we traverse the steep cliffs, making sure we don't lag too far behind, and as the clouds begin to lift, we are met with spectacular views around every corner.

Concluding our hike with a picnic lunch, we then head off to meet Jacqui Hunt from Guernsey Swim Adventures for a guided swim around the neighbouring bays of Fermain (guernseyswimadventures.gg). The biggest challenge here is getting the wetsuits on and off. Once bravely immersed in the water and having adapted to both the temperature and the waves, and with Jacqui by my side, I can relax and enjoy the freedom of being out in the open ocean.
The final activity for today, is a relaxing, mindful, journaling session with Megan Cluett from All About Yoga (allaboutyoga.gg),- the perfect way to reflect on what has been an action-packed day. The session takes place on the lawn above the Fermain Valley Hotel, a peaceful, sun-drenched location. We are instructed to bring a notebook and pen, and as we begin the session, we are asked to write down five things we are feeling, what we hope to be feeling by the end of the session and who/what we love.
After several yoga poses, we discuss how and if our feelings have changed. I find it surprisingly cathartic and I promise to think about myself a bit more in the future.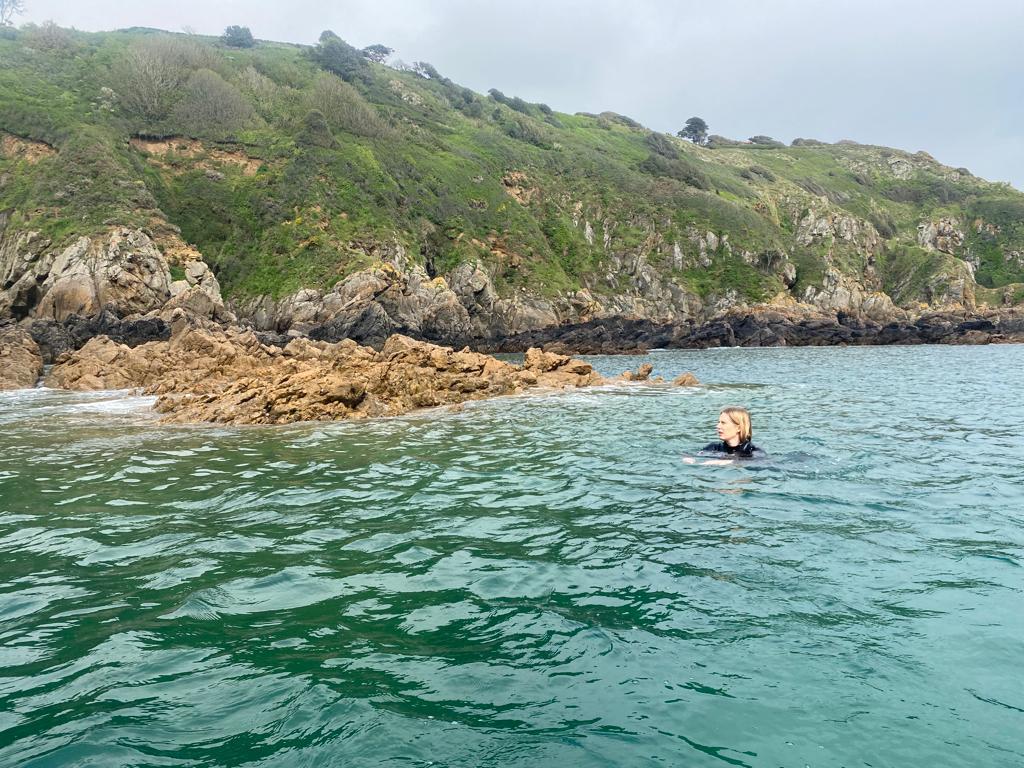 Our final day is by no means any less exhilarating and full of new experiences. We begin with a meeting with Mental Tentacles at La Vallette sea-water bathing pools in St Peter Port. The local swim group meet up every day for a cold water dip and are always happy to welcome new faces; just contact them on Facebook.
After regaling us with tales of their adventures and explaining the health benefits of cold water swimming, they encourage us into the pools to experience it for ourselves. After what has already been a weekend of firsts for me, this is the biggest test of all. After all, getting into a pool at a temperature of 12C in a bikini is no easy feat.
As I tentatively immerse myself into the water, I begin to think it might have just been easier to jump in and get it over with, so I take the plunge and launch myself from the steps. It is surprisingly easy to adapt to the temperature, and with the reassurance of local celebrity and fellow Mental Tentacle, Sea Donkey, I am able to remain in the pool for a good 20 minutes before making a beeline for the heavenly hot showers and a cup of tea.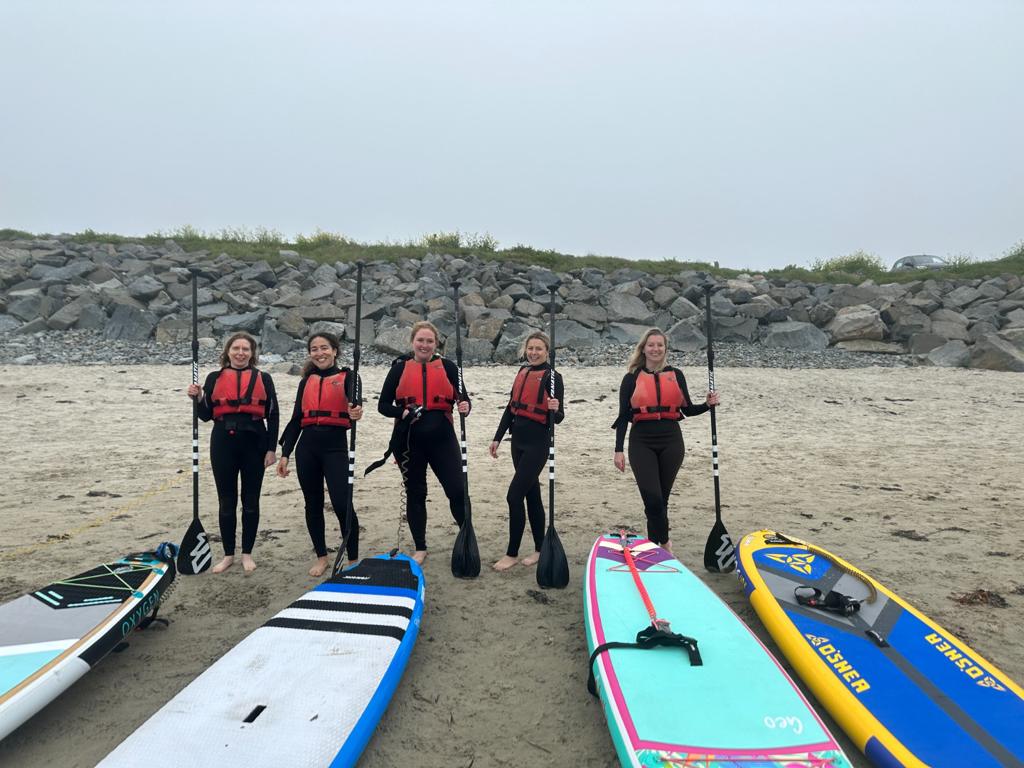 A leisurely walk into St Peter Port shortly after, sees us board a local tuk-tuk for a scenic ride to Ladies Bay in the north of the island for the final activity of the trip with Guernsey SUP (guernseysup.com; two-hour SeaFairie experience from £45pp with board hire). Stand-up paddle boarding is another first for me, but is made less daunting by the expert guidance of a local expert. For a first timer in what is rated 7/10 for difficult conditions, I leave feeling rather proud of myself that I actually managed to stay on the board.
As the weekend draws to a close, I have the chance to reflect on just how many natural resources we have at our fingertips to maintain a healthy lifestyle. I leave feeling more focused, with my mind and soul refreshed by the fresh Guernsey air.
How to plan your trip

Rooms at Fermain Valley Hotel (fermainvalley.com) start from £225 per night with breakfast; treehouses from £338 per night.

Aurigny (aurigny.com) operate year-round direct flights to Guernsey from London, East Midlands, Manchester, Birmingham, Bristol, Exeter, Southampton and Dublin. Condor Ferries operate slow and fast ferries from Poole and Portsmouth to Guernsey year-round.
For more information on the Islands of Guernsey, see visitguernsey.com.
Related Posts